About the project
Sweet Table is a series of tableware designed to compose rich table sets of pastries and cakes. The collection started with a series of cake sands, completed by a showel and knife for cutting cakes. The aim was to get a sleek and modern design, using modern materials such as Plexiglas. For this work, I was inspired by the decorations of the tradition: the frames of the baroque and rococo churches, embroidery and other minor arts. All of those are elements of a creative heritage that has accompanied me since childhood. I designed two kinds of decoration: one similar to embodery san gallo, that results in a cheeky and fun feeling, and a second decoration that is more regal and elegant, inspired by rococò style. Those two souls were mixed and give life to the first elements of the series, dedicated to the world of professional pastry. The series was successful and really appreciated by people, so it become popular in non professional customers as well. In 2016 the cake stands are completed by nine further elements, to give a complet tableware to people who love to impress your guests with a rich table and decorated. Small plates, cups, bowl, spoon and fork and two big plates completed with trasparent domes to protect the content. Moreover the choice is enriched with two new colors: christal clear, plenty quarz pink.
You can buy Sweet Table series on the web site of
Pavon Iidea
.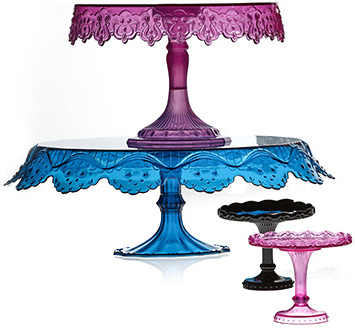 Cake stands
Three different cake stands: big size, medium size, small size for cup cakes.

Serving plates with domes
For a nice presentation at the table, two platters of size medium and large. Dishes can be complemented by transparent domes to protect the food.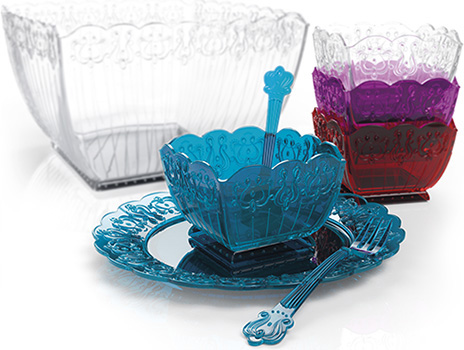 Cup, bowl, saucer
A complete set to enjoy cakes, pastries, desserts and fruit salads: large bowl, small bowl, plate, fork and spoon.

Cutlery
Spoon and fork to match the cup and saucer. Shovel and knife to cut and serve the cake.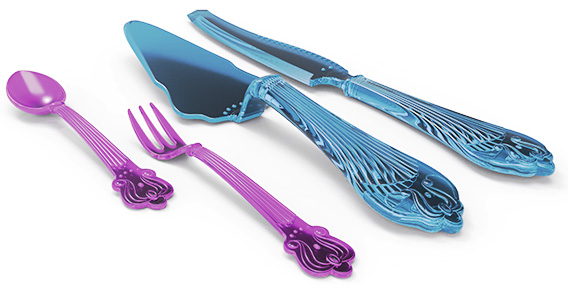 See further product design projects.